ASHURA T-shirt
God of Battle
This is the design based on the Kofukuji-Temple / Ashura statue that is the most popular Buddha statue in Japan. Ashura is a god of battle with three faces and six arms, and is one of the eight legions who protect Buddhism. Normally most of them are expressed with a brave face, but the Ashura statue at Kofukuji is like a child, and has a quiet and sad expression. It is said that this is a reproduction of a scene where everyone gathers around Buddha and listens to his voice. The eight characters in the background mean each of the eight legions, and the characters on the back mean Ashura. A new work in the spring of 2022 that expresses its neat and beautiful appearance with a cool monotone color scheme.
Color : Black
Size : S / M / L / LL(XL) / 3L(XXL)
100% Cotton / Made in Japan
Please kindly understand that the photos displayed might be different a little from the actuality.


A little loose pattern of 'Relaxed Fit' makes easy wearing feeling! Domestically-produced fabric which is knitted by a little thick yarn – count twenty is not only soft and pleasant, but also really durable.

Strong and detailed stitching by skilled artisans withstands repeated washing and pulling. And the ribs on the collar are tripled to prevent stretching. The more you use, the more comfortable it will become.

Silkscreen print gives the image high brightness! We don't dare use oil based ink which is high in work efficiency, we use eco-friendly water based ink having soft touch. Enjoy the highly detailed beautiful images printed by Japanese artisan's hands one by one!

Please see our
web-site
for more details about the manufacturing process.
5 Sizes for Unisex
PLEASE NOTE : Our sizes are for Japanese, for standard US sizes, consider ONE SIZE LARGER than your normal size, ie: If you are usually a MEDIUM (M), then consider our LARGE (L) sized T-shirt.
We strongly recommend to measure with T-shirt you own.
There is a discrepancy of ¼"-¾" (0.5cm-2.0cm) depending on the preservation conditions due to the property of cotton knit.
Size
Length
Width
Sleeve
S
23 ½
(60)
18
(46)
7
(17.5)
M
26 ½
(67)
19
(48)
7 ¾
(19.5)
L
28 ¾
(73)
20 ½
(52)
8
(20.5)
LL
29 ½
(75)
21 ¾
(55.5)
8 ¼
(21)
3L
30 ¼
(77)
22 ½
(57)
8 ¾
(22.5)
inch (cm)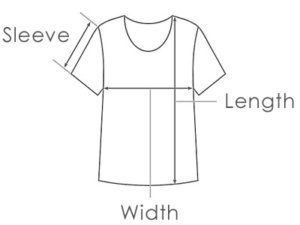 You can wash our products as normal using washing machine, but we recommend the following ways for long time using. Please – Wash inside out. Do not iron print. Before ironing turn T-shirt inside out. Do not bleach. Do not tumble dry. Dry in shade.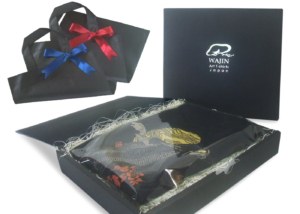 Gift Box
Every products can be enclosed in an original stylish giftbox with ribbon bag. You can easily order on the Giftbox page with small charges (just 0.98 USD for a box).
Let's give the beautiful and high-quality 'Japan' to your precious person!
* Decoration of photo above is just image. Paper cushion is not included. Wrapping with paper and message card service are not available. Simple black bag with ribbon is attached to a box. You can choose the ribbon color from for male or female.
Retail Price

$36.98
Stock Status

In Stock