CAMELLIA Tenugui
Camellia and Carp
The first design of New Tenugui collection 'HARE' is bold, and vivid camellia flowers and carp.
Please enjoy Japanese traditional culture 'Tenugui' in your favorite style freely. It must brighten a place around you!
This is a collaboration design with riː T-shirt.
Size : 14 × 35½ inch (36 × 90 cm)
100% Cotton / Made in Japan
There is a discrepancy of ¼"-¾" (0.5cm-2.0cm) depending on the preservation conditions due to the property of cotton knit.
Please kindly understand that the photos displayed might be different a little from the actuality.


Normally Tenugui uses two types of cotton cloths, one is knitted by a little thick yarn loosely, called 'BUNN', and another is knitted by more thin yarn tightly, called 'OKA'. OKA is good for the delicate expression since it is very flat.
HARE Tenugui is using 'TOKU-OKA'(means special OKA) which is more tightly knitted than OKA, and it has property of strength and good feel!
Please know that Tenugui is very thin cloth, different from Western towel.

HARE Tenugui is dyed by 'Tenassen' that is the traditional techniques of dying using screen plate and starch mixed with dye. Also to use the way 'Reactive dye' makes beautiful graphics even if you see from the back. Making dyes permeate without dye bleeding thereon is the high-technique that only skilled artisan can have. Enjoy tender feeling of dyeing own and beautiful Japanese traditional art!
Please understand that there are cases in which adjacent colors make slight color blur due to the property of dyeing.
The edges are unfinished and will tend to unravel for about 3-5mm, but after several washes, it becomes tightened. Please don't pull loose threads (use scissors to cut them if they are a nuisance). The hand-dyed color may fade in the wash, it is recommended to wash Separately, and Do not bleach, Do not tumble dry, Do not dry clean.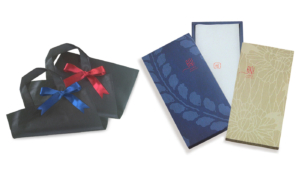 Free Box!
All products of Tenugui are cased in original beautiful box. You can choose the box from two types, Blue or Brown. Let's give the beautiful and high-quality 'Japan' to your precious person!
* Wrapping with paper and message card service are not available.
Retail Price

$28.85
Stock Status

In Stock